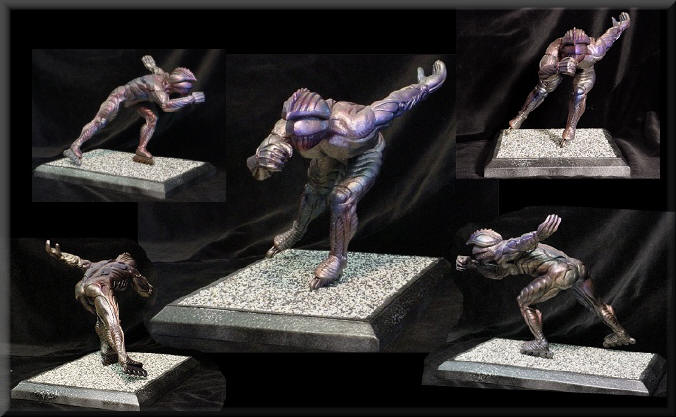 The Skate Warrior - Custom made Artwork
This character is the first in a series of figures that is currently under development.
The character shown here represents the human body in motion combining the power of the musculatory system with the recent development of inline speed skates. The morphing of the muscular anatomy into an armor type skin is a further development of the character.
The mechanics of producing maximum speed with minimum effort is an art form by its own right. This figure depicts a fragment in time of the skating technique known as the "double-push". For those whose passion it is to achieve maximum speed on skates, particularly on the open road or trail, the ability to exercise the human machine efficiently in this manor is to achieve perfection.
This figure stands approximately 7 inches tall on a simulated asphalt base. Replicas of this character cast in Polyurethane resin are now available. Alternative colors or base platforms are optional. Custom made original figures are also available. Simply provide a concept or idea or just let us do the design work for you.
Cost of statue is $375 including shipping and handling within the US.
Contact animatedideas.net for ordering info and questions.